Here, it's practically sandal season all year long! Before you slip on those flip flops, however, make sure your feet are pool-ready with a pedicure. At Alpha Nail Bar, we offer a variety of foot care treatments, from our standard express pedicure designed to get your toes ready to go in record time, to our athletic pedicure carefully crafted for those who push their feet to their competitive limits. Whatever your job is, we know that your feet are working hard to help you take steps toward success. It's about time you sit down, put your feet up, and let yourself relax so you can put your best foot forward.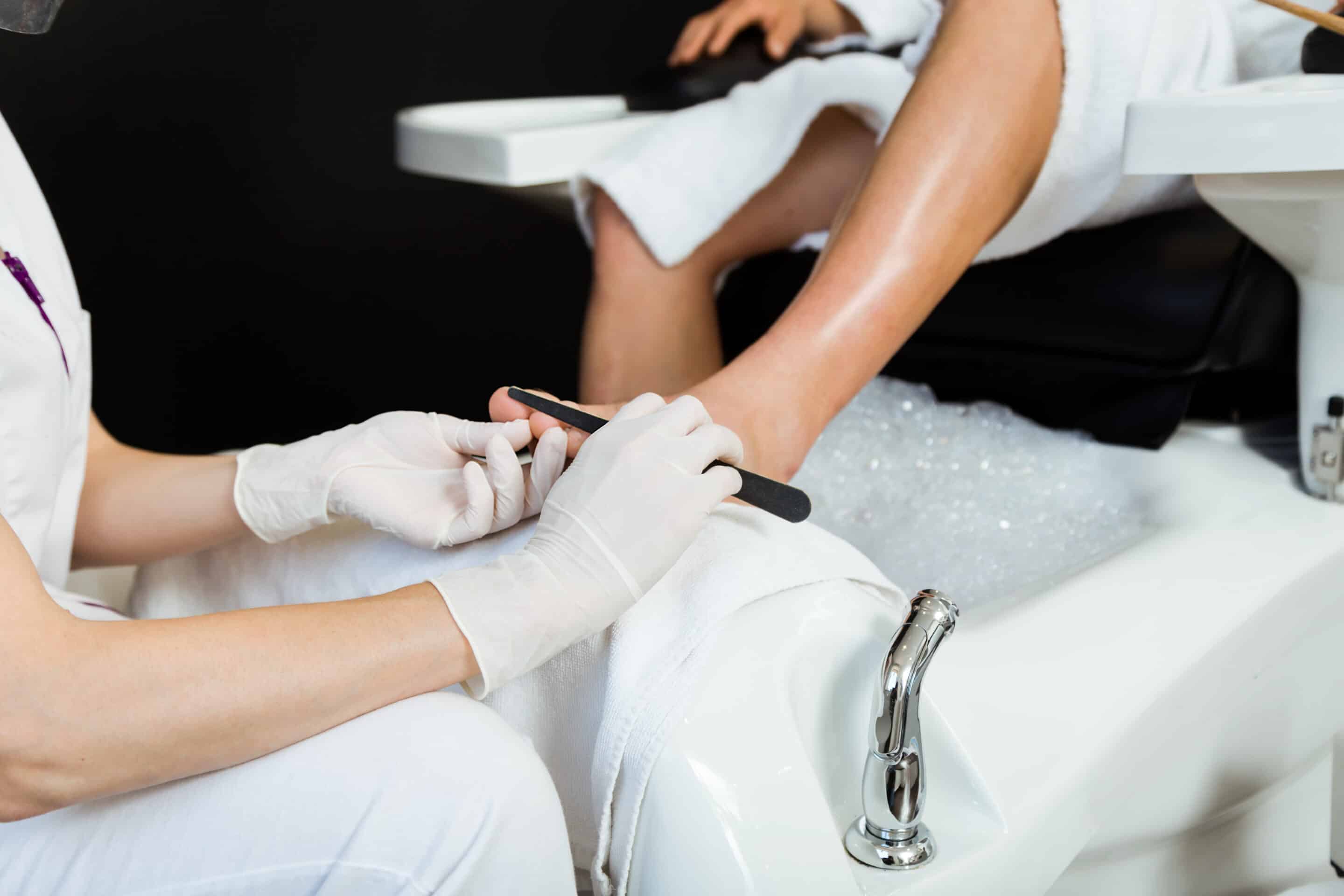 Utilizing Epsom salts, essential oils, foot scrubs, and more, our pedicures will give you the ultimate relaxation experience. The Epsom salts soak away aches and pains while essential oils seep deep within your skin to replenish much-needed nutrients. Scrub away the rough exterior and calluses before you indulge even further in a hydration treatment or a cooling leg mask. Whatever your foot care needs are, Alpha Nail Bar has you covered. 
In addition to improving your appearance and boosting your confidence, pedicures and foot care treatments can be beneficial to your health. Regular pedicures with massages can help to improve your circulation and mobility. This boosts the health and function of your vessels, ligaments, muscles, and more, giving you a leg up on the competition. When you look better and feel better, you perform better. Take the next step and schedule an appointment with our foot care treatment specialists today! 
Express Pedicure - $40
Begin with our custom Epsom salt-based soak infused with Eucalyptus, Peppermint, and Tea Tree oils. Service also includes nail clipping, filing, cuticle care, callus removal, and massage.
Decision-Maker Pedicure - $47
For the man who knows what he wants. Includes all the elements of the Express Pedicure plus callus removal and a choice from one of the following
Alpha Pedicure - $60
An elevated version of the Express Pedicure that also includes an invigorating Eucalyptus and Mint scrub, callus removal, a relaxing leg, and foot massage, and paraffin and mask treatment to hydrate the skin.
Athletic Pedicure - $75
Begin with our custom Epsom salt-based soak with cooling oils designed to soothe any aches and pain. Service continues with nail clipping, filing, cuticle care, callus removal, mint scrub, and hot stone massage. Service ends with a rich topical cream used by massage therapists and sports practitioners that provides a comforting sensation of cooling and warmth to aching muscles.
Detox Pedicure - $75
Experience our custom Epsom salt and activated charcoal soak designed to draw away impurities and relax the feet. Service continues with nail clipping, filing, cuticle care, callus removal, activated charcoal scrub, hot stone massage, and paraffin and mask treatment. Optional buff shine or matte top coat.
Alpha-In-Training Pedicure - $30
(12 and under). It's never too early to start grooming habits. Little gents will indulge in a soak, nail clipping, filing and light buffering. Includes complimentary water, juice box or soft drink (almost like daddy), and a snack.